With exponential growth in the last 20 years, the biotech life science sector has created a need for innovative and unique campuses that facilitate collaboration and breakthrough discovery. For the last decade, RICK has been honored to be a part of several exciting projects in this sector.
As the industry continues to evolve in a post-COVID environment, we are continuing to pivot with our clients, contractors, and public agencies to adjust to current market trends, schedule challenges, supply chain disruptions, and increasing project costs. The industry rapidly changes, and our ability to adapt enables our design team to provide value and maintain relevancy in this competitive market sector.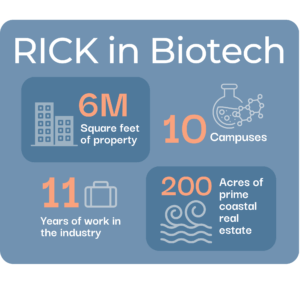 Recently, we have been working to improve project schedules and streamline permit processing. We partnered with industry leaders and land use attorneys to proactively engage and strategize with the City of San Diego Development Services department in establishing an entitlement process specifically designated for life science projects. This allows projects in the new biotech category to move ahead of more traditional projects, with City staff dedicated to prioritizing and reviewing these projects first and City managers who facilitate review cycles and provide schedule accountability.
Working with the City has also allowed us to be a more valuable member of partnerships with developers and builders of projects like Headquarters Point, One Alexandria Square, Scripps Headquarters, and the San Diego Tech Center. Our experiences on these projects have all been enrichingly collaborative.
Designing biotech campus clusters gives our engineers and designers a chance to create spaces where great minds can work synergistically and efficiently. In the long run, these spaces are places in which research done today will benefit the community down the line.
"The biotechnical life science sector is an ever-growing industry that provides us amazing design opportunities and interesting challenges to overcome. The sites themselves are complex, and it's interesting to see how focused developers are making these campuses dynamic, sustainable, and tenant focused to allow for unique and inspiring spaces.

We are constantly reminded that our work along the way is for a greater purpose. The goal of these projects is to create a space for groundbreaking cures, discoveries, and more. Working on these projects is rewarding, and it's exciting to support this evolving community in San Diego."  —Allyson Serafico, RICK Associate Project Engineer
Along with our local knowledge, RICK has the unique opportunity to work on these projects for the duration of the full project life cycle; we're involved from the due-diligence phase to the creation of as-builts, providing in-house surveying, mapping, laser scanning, photogrammetry, planning, traffic, water resources, and civil engineering services to biotech clients and engaging many of our in-house teams.
With the range of uses life science facilities have, there are countless components to consider along the way. Teams are discovering unique ways to integrate stormwater treatment facilities into contemporary amenity spaces, designing cantilevered ADA-accessible pathways to mitigate vertical grade challenges, and implementing multimodal transportation within these campuses. Additionally, when optimizing square footage, designers keep complex building codes and client objectives top of mind as they work to ensure end users will be able to move safely, comfortably, and efficiently through each space within the facility.
"It's exciting to be a part of something that challenges our teams and forces us to think outside the box. So many elements are interwoven, and it's interesting work to think about all the pieces and parts."  —Carson Edgington, RICK Associate Principal
Participating in multiple phases has also allowed us to develop a wide variety of partnerships along the way. Not only do we have the honor of collaborating with nationally recognized developers, but we also embrace established relationships with top rated architectural firms, contractors, and mechanical, electrical, and plumbing engineers while working through the complexities of the site development. Our partnerships with them have been paramount to our growth in this sector.
One Alexandria Square is one such proposed campus our teams have been working on. RICK is continuing to support construction as the buildings on this exciting campus begin to take shape. Construction is expected to be completed in 2026.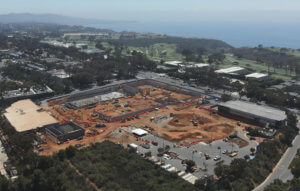 One Alexandria Square, currently under construction. Photo credited to DPR Construction.
Inspiring agency and stakeholder relationships have propelled us into the next phase of innovation at RICK. We are eager to see what the future holds for our clients, partners, and our own teams as we watch the next generation's great minds make life-changing discoveries.