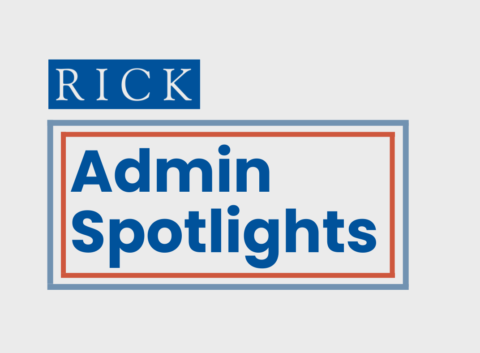 With great attitudes and smiles on their faces, RICK's team of administrative assistants keep things running smoothly despite the wide array of tasks they juggle daily.
Especially during busy weeks, our admins provide invaluable support to their teams, empowering RICK's business units to do their best work on projects.
Since their work often takes place in the background, today we are spotlighting some of these women managing several crucial tasks.
Learn about some of our wonderful administrative professionals below.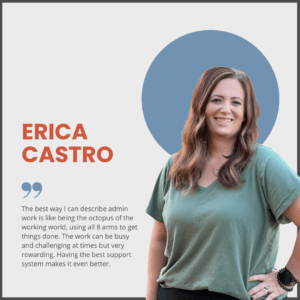 Erica Castro | Associate Project Administrator, Phoenix
Q: How did you end up in your position?
A: When the possibility of hiring someone part time to assist the Phoenix principals, they graciously threw my name in the hat. I interviewed, and here we are! I started part time with Cypress Civil in March of 2021, and when things aligned for both parties in October of 2022, I made the leap to come to RICK full time. I have no regrets!
Q: What is the most rewarding thing about your job?
A: The most rewarding thing about my job is working to alleviate day-to-day stress for my team, allowing them to focus on their tasks. They know they can reach out to me at any time to find missing or additional utility maps or as-builts to complete their plans, check the status of submittals, obtain permit information, gather receipts, track projects, send out conflict reviews, or whatever else they might need!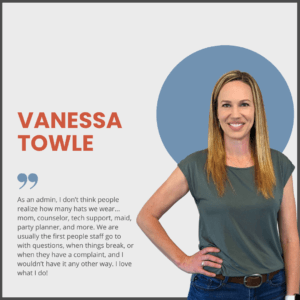 Vanessa Towle | Executive Assistant, Tucson 
Q: What is something admins do that often goes unnoticed?
A: I think behind-the-scenes work often goes unrecognized, like making sure everything in the office is running smoothly. Even the small things matter, and those small things support the overall big picture.
Q: What is the most rewarding thing about your job?
A: My absolute favorite thing about my job is the team I get to work with and the principals I get to work for. Working with great people makes stressful days much more enjoyable. I enjoy being able to help my coworkers with whatever they may need. If I've relieved even a small amount of stress from their day, then that's a day well spent.
I also love that every day is completely different from the next. I never know what the day is going to bring, and it keeps me on my toes.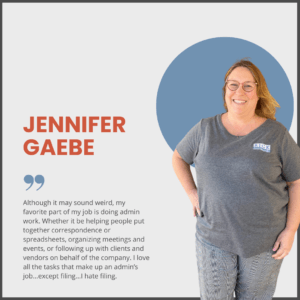 Jennifer Gaebe | Assistant Corporate Secretary, San Diego
Q: How did you end up in your position?
A: I was hired at RICK in 1990 as a second admin for the Survey/Mapping department. I eventually became the only admin supporting those groups, along with supporting other admin needs for the company. At the end of 2010, I interviewed to fill the position of Assistant Corporate Secretary, got the job, and I moved my stuff from one side of the building to the other to take on my new duties. Even though each position has its own responsibilities and challenges, I love each one.
Q: What is one thing that admins do that often goes unnoticed?
A: I think what goes unnoticed is the experience and expertise admins put into their work. Just like every RICK employee, there are a set of standards we follow, and we take a lot of pride in the work we prepare for our groups.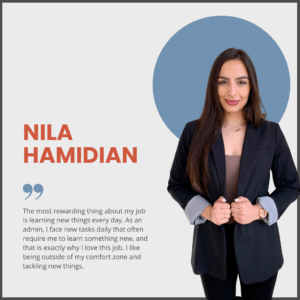 Nila Hamidian | Administrative Assistant, Orange
Q: What is your favorite thing about your job?
A: My favorite thing about my job is my work environment; I am surrounded by people who inspire me to work hard and become better every day. My coworkers are some of the kindest and most helpful people, which makes me really appreciate working at RICK. 
Q: What is something admins do that often goes unnoticed?
A: I wish more people knew admins love learning new things! As an admin, I face new tasks daily that often require me to learn something new, but that is exactly why I love this job. I like being outside of my comfort zone and tackling new tasks.
We also enjoy the sense of responsibility that makes showing up every day feel important and rewarding.
Admins, your work is incredibly valuable and makes a large contribution to RICK's success.
We have so much to thank you for and we hope you feel appreciated today!