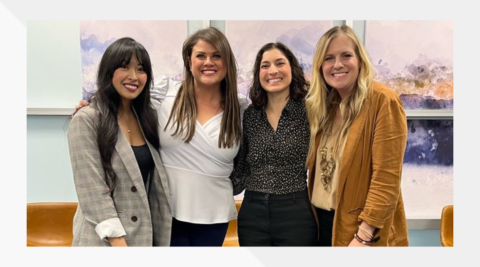 Last month, RICK's Allyson Serafico, PE was featured alongside three others on an impactful women's panel in San Diego for DPR Construction's Women in Construction Week 2023.
The panel featured key individuals on the design team for the One Alexandria Square (OAS) project, a proposed biotech campus in the Torrey Pines area of San Diego. This 22-acre site will be a landmark biomedical research facility dedicated to scientific research. The project is transitioning from the entitlement to construction phase, and each of the women on the panel had a hand in the design and approval process. RICK will be providing civil engineering services throughout the life of the project.
The panel was moderated by Amanda Pritchett from DPR. Other panelists included Rachel Nucci, AIA from HGW Architecture and Amanda Funari from Ground Level Landscape Architecture. Each woman brought her own perspective to the conversation, which covered navigating a career in a male-dominated field, the future of the A/E/C industry, and advice for women starting out their careers.
Allyson appreciated the insightful questions asked; they centered around ways to be a better professional and person and how to grow solid career foundations by building relationships with people.
"I was beyond grateful to have had the opportunity to speak as a respected female in the industry alongside such accomplished, confident, passionate women. The panel didn't just focus on being a female and how it has impacted our careers, but it also delved into deeper topics. The crowd was very engaged and asked us out-of-the-box questions that made the whole experience very memorable."

—Allyson Serafico, PE | RICK Assistant Project Engineer
Attendees were also members of the OAS design team, and the event served as a way for the team to get to know each other better outside of the demands of project work. Therefore, the gathering served as a way to acknowledge and celebrate the women who work hard in their key roles as designers of life-saving campuses like OAS.
Thank you to DPR Construction for facilitating this inspiring conversation! RICK is looking forward to the future of the life-saving OAS campus and is honored to be a part of the team.