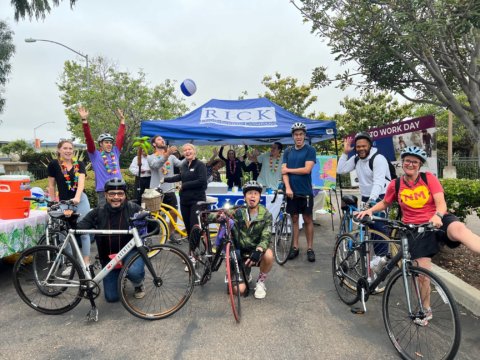 RICK's San Diego and San Luis Obispo (SLO) offices recently promoted sustainable commuting practices by participating in Bike Month and Bike-to-Work Day, encouraging bikers in their neighborhoods and beyond.
RICK San Diego Brings the Beach to the Bike Lanes
On May 19th, RICK hosted a beach-themed Bike-to-Work Day pit stop for participants to rest, enjoy snacks, and connect with other bikers just outside its San Diego office. Thousands of bikers took to the streets to participate in SANDAG's 31st Annual Bike-to-Work Day, and RICK's energetic team put together one of 100 official pit stops throughout San Diego County for commuters biking across the county.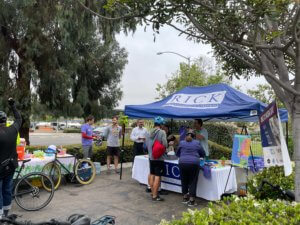 RICK staff arrived early to set up the booth, which was complete with cornhole, plenty of snacks and refreshments, frisbees, beach balls, sunscreen, and a pin board for bikers to mark their starting points. Almost 90 riders stopped by, 15 of which were RICK staff making their morning commute. Some came from as far as Encinitas, and we even had a visit from a four-legged commuter—Bubba! It was great to connect with so many wonderful people in celebration of biking.
Along with other RICK team members, Juan Parra, co-coordinator of the pit stop, enjoyed giving RICK's oasis some extra pizazz. Erika Saari, consultant to SANDAG's iCommute program, commented on how fun the beach theme was and noticed the creativity the team brought to the booth.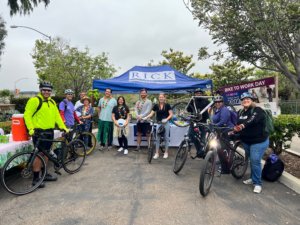 "I've always wanted to be able to bike to work and it feels good to promote it in the community." —Juan Parra, Transportation Designer and Pit Stop Co-Coordinator
For over 30 years, Bike-to-Work Day has promoted biking as an environmentally friendly, cost-effective mode of transportation for commuters throughout the country. SANDAG's iCommute program organizes the event in conjunction with local municipalities and businesses as a part of Bike Month, a month full of bike-related events available to the public at no cost.
Bikers and Burritos in SLO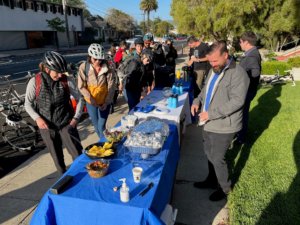 RICK's San Luis Obispo office also participated in Bike Month, hosting a Bike Breakfast on Wednesday, May 18th. Thanks to a few early risers, 70 riders stopped by to enjoy breakfast burritos, coffee, fruit, and orange juice. Bikers of all ages swapped commute stories on the beautiful SLO morning. After two years of postponement, everyone was excited to finally participate in the biking festivities again.

"The RICK SLO office has been supporting rideshare and bike month for a decade. It was so great to host a Bike Breakfast once again. We had a strong turnout this year and came together as a team to put on the event." —Tom Martin, SLO Branch Manager
We'll see you all next year, bikers!