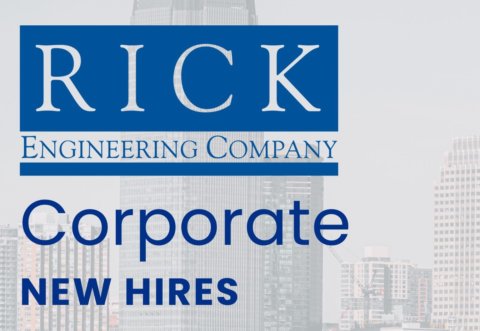 With evolving staff and procedural needs, our hard-working Human Resources (HR) and Accounting/Finance departments have required expanding staff capacity to accommodate growth.
Thanks to our new hires and existing talented staff, RICK looks forward to the coming year and the dynamic changes taking place in the corporate departments.
We're excited to share more about our dynamic new corporate hires.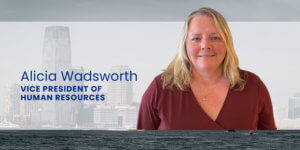 Alicia Wadsworth, Human Resources
This year brought on a variety of exciting changes within the HR department. A major catalyst for growth and operational enhancement has been the decision to hire Alicia Wadsworth as Vice President of HR. This role includes supervising and overseeing the entire department, including talent acquisition, benefits, compensation, employee relations and retention, staff development, and legal compliance.
Alicia joined the RICK team as Vice President with 20 years of experience in the HR field. She has directed and managed all aspects of HR and is a proven leader with the ability and experience to manage growth and organizational changes, as well as the skill and experience to help RICK serve our employee's needs.
Prior to joining RICK, Alicia was the Vice President of HR for Plaza Home Mortgage, a large, multi-state and multi-office firm. During her 10 years at Plaza, she was instrumental in managing change and processes in a rapidly growing firm. With her leadership, the Plaza HR department implemented best practices for HR programs for 15 offices, developed internal training programs, established comprehensive onboarding programs and retention management systems, spearheaded a web-based performance management system, and championed processes and initiatives for employee benefits.
Alicia holds a Bachelor of Science degree in business management with an emphasis on human resources management. She is a recognized leader in the HR industry and has held several leadership and board roles in the Society of Human Resources Management. She has also served on the San Diego Human Resources Forum Board of Directors.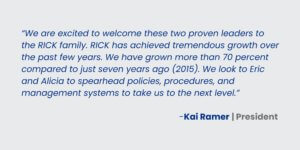 Eric Samuelson, Accounting and Finance
RICK's Accounting and Finance department has also been evolving this year. As a part of the growth of the department, Eric Samuelson was hired as Vice President of Finance earlier in the year. He comes to us with over 25 years of experience in accounting and finance leadership, having served as the corporate controller for multiple fast-growing organizations. As a data-driven decision maker with a proven record in business development and accounting operations, he is an expert at improving processes and procedures to increase productivity and revenues while reducing costs.
Prior to joining RICK, for 11 years Eric was the Vice President/Controller for PINT, Inc., a leading web development and digital consulting agency in San Diego. During his tenure at PINT, Eric's leadership helped more than double the company's revenue. Eric has also served on the board of directors for several local nonprofit organizations as chair, treasurer, and director, and he has a bachelor's degree in accounting from Arizona State University, Tempe.
Eric has hit the ground running, collaborating with our existing team and welcoming some new members. We're excited to have his expertise in our company.
RICK looks forward to the incredible assets Eric and Alicia will bring to the table,
and our firm's future is brighter with them in it.