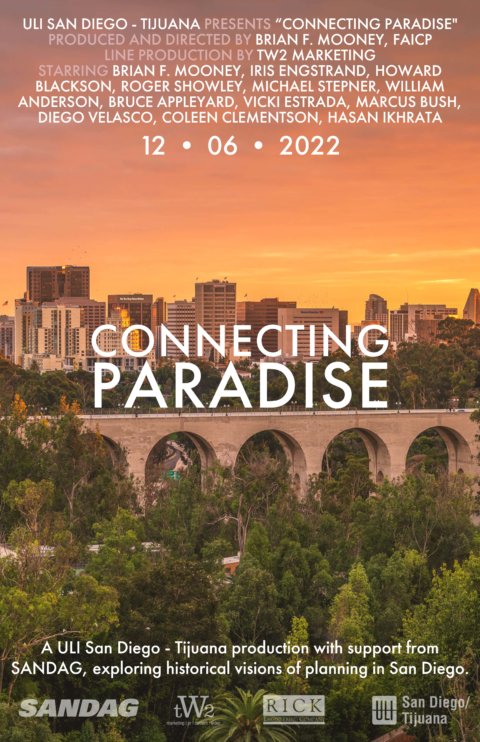 In 2022, Brian Mooney, Managing Principal of RICK's Planning + Design Division, wrote and spearheaded the production of the documentary film Connecting Paradise, which premiered in December. Following its pre-screening at the California Annual American Planning Association Conference in October, the film officially premiered on December 6, 2022 at the Urban Land Institute (ULI) San Diego/Tijuana Premier and Member Social Event.
The Film
The film explores San Diego's historic visions by examining public planning strategies, beginning in the late 1800s and through today's ambitious plans for the 21st Century. "Paradise" refers to the innovation that marks San Diego's legacy; updated transportation, creative and integrative technology, and a focused effort to prioritize bicycle and pedestrian capacity all represent hallmarks of San Diego's roots.
Major themes of the film also include issues of leadership and diversity and the role they play in San Diego's development. Early leaders in planning, including Glenn Rick (San Diego's first Planning Director and founder of RICK), had incredible vision for what the city could be. Detailing these influential figures and their insights, the film includes interviews with key participants in San Diego planning, designing, and writing.
As a result of examining the city's rich history, it is abundantly clear that the San Diego community has been, and always will be, full of diversity. From the indigenous Kumeyaay people to the Central and South American, Mexican, Japanese, Chinese, Filipino, and African people who brought life to our city, the film puts an emphasis on the diversity required in planning to make San Diego what it is today.
"Congratulations on a great film on the history of planning in San Diego! The images were compelling, and the script was zippy and informative. The film was a lovely and loving tribute to our fair city. Thank you [to Brian and his team] for [their] vision, energy, creativity, and persistence in bringing this project to realization."  —Diane Kane | UCSD Lecturer in Architectural History
Thanks to the work of everyone involved in the production, viewers are appreciating the big-picture perspective and feeling of connectedness that comes with learning about the history and people who made their home what it is today.
The Origin Story
During a conversation with the Chair of ULI at a conference, Brian shared his vision for a documentary that covered San Diego's early history, all told from an urban planner's perspective. It was this conversation that began the collaborative effort between Brian (along with support from RICK), ULI, TW2 Marketing, and SANDAG.
Brian's passion for San Diego, his more than 40 years of experience in planning/public outreach/environmental analysis/research and development of public policy, and his interest in film merged to create an idea that would turn into Connecting Paradise.
This is the third film Brian has worked on. In fact, he says he always has ideas for future films on his mind. Since graduating with a bachelor's degree in anthropology from San Diego State University and a master's in urban history from the University of San Diego, Brian has been interested in documentary films. He is grateful for the opportunity to pursue this interest with support from others in the industry.
Along with Brian, RICK is grateful to SANDAG and ULI for their support and participation in the making of this project. Additionally, special thanks are extended to Jen Whitelaw and Sarah Austin from TW2 for their videography and editing skills and Chris Clark from ULI for his support and imagery.
At RICK, we are so proud of Brian for his vision and work on this project, and we're honored that he brings this vison to RICK too. Congratulations, Brian!
The film has been playing at screenings across the city, and is also available on the ULI website for ULI members only.