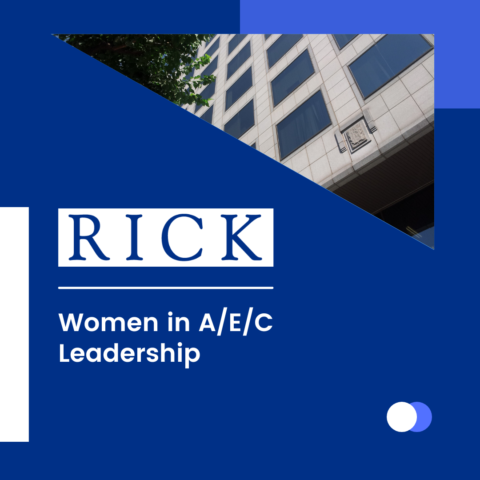 The profound contributions of women in leadership in the A/E/C industry worldwide are improving and enhancing our communities and advancing the industry daily. At RICK, we are especially honored to have so many talented, inspiring, and skilled women leading our teams and shaping the staff of Team RICK. The work and effort they put into our company, our project work, and our teams not only benefits their coworkers and fellow female leaders at RICK, but the communities RICK serves, and the A/E/C industry at large.
It certainly has not always been common for women to have positions of leadership in the A/E/C industry, and the women who have established careers at RICK are trailblazers; they all have worked hard to get where they are today, using what they have learned and relying on strong talents, skills, and will to develop successful careers. RICK is grateful to our many leading ladies for the industry passions and career-building knowledge they provide to develop and inspire RICK staff. In tribute, we're showcasing just a few of those many admirable leaders.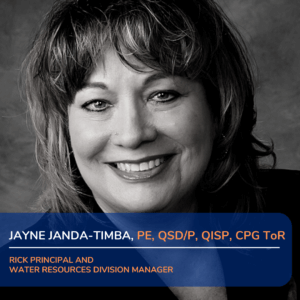 Jayne Janda-Timba, PE, QSD/P, QISP, CPG ToR was the first woman at RICK to be named Principal. She is an inspiration to the entire RICK team. Jayne exemplifies the spirit of RICK: outstanding technical expertise, industry leadership, creative solutions, teamwork, and exceptional client service. A member of the RICK team since 1990, Jayne serves as Principal, leader for the company's Water Resources Division, and is an industry leader in safeguarding our region's water resources.
Jayne's industry involvement is vast, and she's involved with multiple internal RICK committees (the Diversity/Equity/Inclusion/Belonging Group, Green Team Committee, and RICK Toastmasters International, to name a few). Among her many accomplishments is a past APWA San Diego and Imperial Counties Chapter presidency during the beginning of the pandemic in 2020. In each of her roles, Jayne champions junior RICK staff and serves as a role model for all the women at RICK.
"I love what I do, so it doesn't feel like work, but it's not always easy. As a young woman, I set a goal and never lost sight of that goal. My father always told me success would come if I worked hard and had passion for what I did. My father's words kept me focused and provided me the ability to succeed! I encourage everyone to find the career that makes them happy, and success will follow." —Jayne Janda-Timba, PE, QSD/P, QISP, CGP ToR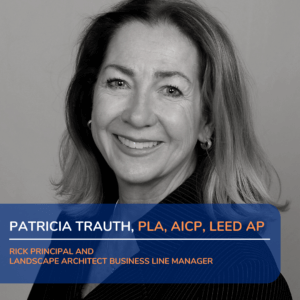 Patricia Trauth, PLA, AICP, LEED AP has 35 years of experience and is highly respected in the community as a landscape architect. She represents landscape architects on a national level as trustee for the American Society of Landscape Architects, and she's a member of the American Planning Association and the Urban Land Institute. Patricia was appointed by the Governor of California to the Landscape Architects Technical Committee State Regulatory Board and by the Mayor of Encinitas to the Mobility & Traffic Safety Commission. Within RICK, she serves on several committees that work to improve RICK's workplace culture: the Green Team Committee, the Diversity/Equity/Inclusion/Belonging Committee, and the Workspace & Culture Group.
Even with her packed schedule, Patricia still makes time to support the staff she manages, helping them grow and advance their careers. She supports her fellow female engineers with the kind of empathy that comes from experience; as a working mother, she has a thorough understanding of how the women of RICK can thrive.
"I think we've come a long way, but we've got a long way to go to get more female professionals in the development industry. It's not just business in general, it's also the way women view themselves. Women need to volunteer to do things, take on tough projects, and get comfortable with failing, not worrying about it and just moving on." —Patricia Trauth, PLA, AICP, LEED AP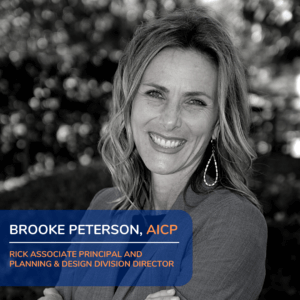 In RICK's Planning Department, Brooke Peterson, AICP uses her 21 years of experience to inform her leadership style. She mentors staff using established career development plans that provide short- and long-term goals, skills, and training plans, as well as pathways to involvement in professional organizations outside of RICK.
In addition to leading her staff well, Brooke is especially passionate about paving the way for working mothers.
"I have a passion for mentoring women at RICK on how to best approach and juggle the balance/struggle of being a working mother. It is a difficult challenge that isn't openly acknowledged and honestly shared in the workplace, and as a supervisor, I have a passion for making a safe place for those struggles, coaching women through it, and facilitating as much opportunity for successfully striking a balance as possible. I try to serve as a role model for how to prioritize being a committed mother and having a successful career within and beyond RICK." —Brooke Peterson, AICP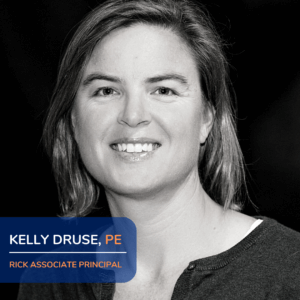 Kelly Druse, PE, an Associate Principal in RICK's San Diego office, leads with 25 years of land development experience. She values making connections and sharing knowledge between disciplines and RICK offices. Exposing her staff to different areas of expertise within the industry and equipping them with training and work-share opportunities are high priorities for her.
As a leader, Kelly is always available to her staff. She stays in tune with their career goals and helps them find unique ways to engage with their profession outside of everyday desk work. She takes team members to visit project sites and encourages them to attend trainings and professional organization events. In particular, she encourages staff to attend CAD or project management trainings and leadership functions.
Kelly mentors younger female staff with monthly lunch meetings and happy hour outings to build relationships. She supports her staff, so they feel comfortable pushing themselves to forge career paths tailored to their interests and talents.
"I'd rather be a friend and coworker than a boss. At RICK, you can really make your own opportunities; people can write their own destinies. We can do that here more than other places."  —Kelly Druse, PE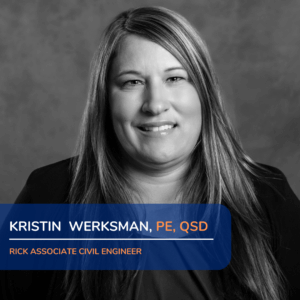 For Kristin Werksman, PE, QSD, working at RICK is a family affair. Kristin's son and daughter consider RICK to be their second home, and Kristin's clients have become her close friends. She deeply values what RICK's culture has meant to her and her family during her 24-year tenure here, and she wants the staff she mentors to feel the same.
Now, as an Associate in RICK's Riverside office, Kristin sees her position of leadership as an opportunity to show the women of RICK the potential to have the type of positive experience she's had.
"I always try to lead by example. I was once told that a good leader is always training their replacement and that has always stuck with me. Our office has a valuable growing female staff, and I always try to connect with them and show them that at RICK, they can have the career path they want and still be able to prioritize motherhood, especially when their kids are young. I am just thankful to have worked for RICK for so long and to feel valued by RICK for my contributions." —Kristin Werksman, PE, QSD
RICK would not be what it is without the kind, gifted, and hard-working women who are key to Team RICK.
Thank you to all the women leaders and team members we are so fortunate to have on our team.