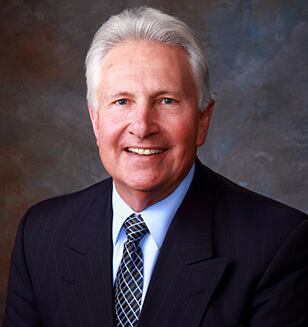 Roger Ball, Principal, Chairman of the Board, and Past President at RICK Engineering Company was recently honored at the 2022 San Diego State University (SDSU) Alumni Awards of Distinction. Roger, a Class of '74 graduate from the College of Engineering, served as Past President of both the San Diego Chapter and the California organization of the American Council of Engineering Companies (ACEC). He was elected to the national ACEC College of Fellows in 2014. Roger also serves as a member of the SDSU Engineering Dean's Advisory Board and as Chairman of the Board's Development Committee.
The awards honored ten distinguished alumni from each of SDSU's seven academic colleges at a ceremony on Saturday, April 23 at the Omni La Costa Resort and Spa. Alumni were honored for their national or international contributions to SDSU, the San Diego community, and the state of California. RICK sponsored the event, and several team members attended in support of their colleague.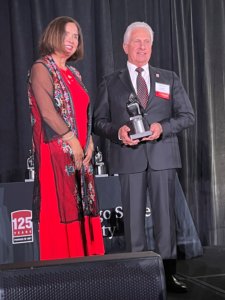 "I'm certainly honored, but also very humbled; the other awardees have accomplished outstanding things and done so much for the University."—Roger Ball
Even with his humbled words, Roger's accomplishments over the course of his career have been notable and numerous. He spent his entire career at RICK, working his way up from draftsman to Company President by 2006. Watching the company grow and adjust to changing times excites Roger, and developing and maintaining relationships with clients, some of whom he's been involved with for over 20 years, proves particularly gratifying for him.
"I feel grateful for the growth opportunities I had early on in my career, and my education from SDSU certainly prepared me well."—Roger Ball
Roger feels strongly about giving back to his alma mater because of what he gleaned from his education. Therefore, he has stayed involved at SDSU since his graduation in 1974, including delivering several guest lectures. Recently, through his involvement with ACEC, Roger catalyzed the establishment of a RICK Engineering Company Endowed Scholarship for future SDSU engineering students.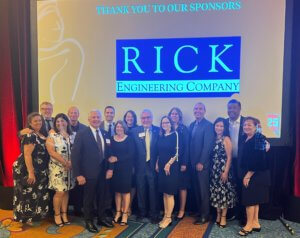 Prior to the alumni award, SDSU honored both the support of RICK Engineering Company and Roger's commitment to his beloved university in 2018 by naming an outdoor terrace in the new Engineering and Interdisciplinary Science Complex the "RICK Engineering and Roger Ball Family Student Terrace."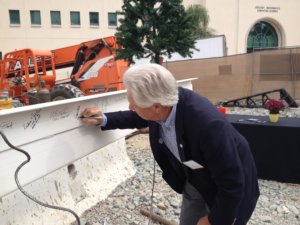 Congratulations on this prestigious recognition, Roger! RICK is grateful for your contributions to this company, the San Diego community, and the next generation of civil engineers.
Visit SDSU's website to learn more about Roger's contributions and the Alumni Award of Distinction.